Persistent Chronic Pain and Stress Relief Through
Integrated MyoFascial Release, Massage & Reiki Therapies
Hello, my name is Dusty Rhodes, owner of both Spirit-Mind-Body Massage & Reiki (SMBmassage) and Archangel Integrative Wellness Management.
I am a professional MyoFascial Release Therapist, Reiki Master and Health Educator, licensed by the State of California (CMT, CAMTC # 67448).
I seek not only to help you relieve your persistent chronic symptoms and dysfunctions, but also to find and mitigate the root causes of your symptoms — I holistically treat you as a whole person, not just as a diagnosis and a bundle of symptoms.
My medical NPI (National Provider Identification) number is 1477098572.

I graduated from the 1350-hour Advanced Neuromuscular Massage Therapy and Health Educator (ANMT) program of class & hands-on training, externship & clinical practice, offered by the National Holistic Institute, A College of Massage Therapy. NHI, a nationally recognized leader, provides comprehensive, well-rounded clinically-based hands-on neuromuscular massage therapy and health educator training.
At SMBmasage, I use FRIFTM, the Functional Re-Integration FrameworkTM, that allows me to intuitively integrate appropriate elements from several advanced medical, clinical, orthopedic, therapeutic, neuromuscular, relaxation and energy therapies, including health education. I do not use a rigid cookie-cutter protocol, but rather, I intuitively adapt my choices by "listening" to what you, your body and your energy field tell me. The specific blend of FRIF therapies used depends not only on the goals of the therapy session, but is also are adapted to suit the set of pathologies presented & encountered during the session. Often, there will be relevant & necessary client-therapist dialog during a session to help us understand what is happening with you, thereby providing me guidance regarding how and where next to work, using which methods.
The S2WTM, or Stairway to WellnessTM, model within FRIF allows the client and the therapist, working together, to make better-informed choices regarding the blend of techniques, hoped-for therapeutic outcomes, and cost.
Within FRIF, SMBmassage's foundational manual therapy modality is MyoFascial Release, the John F Barnes Approach (MFR/jfba), a non-diagnostic whole-body manual therapy. It focuses on finding and releasing fascial restrictions throughout the whole body. Given the all-pervasive networked nature of fascia into every corner and cell of the body, the root cause of symptoms can be anywhere, hence the need for an integrated whole-body approach.
Please refer to the Services TAB for more details about MFR/jfba and the other therapy components I currently draw upon within FRIF.
Based on a client intake assessment, often working closely with the client's physician, I recommend the client's specific therapeutic program, customizing each therapy session to integrate a suitable combination of several modalities to address the dysfunctions and associated pathologies.
The client's specific pain, stress, medical, clinical, orthopedic and therapeutic needs drive how each therapy session is customized within the context of the client's medical prescription or long-term program of manual & energy therapies and self-care, for maintaining and improving health and wellness.
At SMBmassage, I facilitate the client's healing process. As such, I emphasize the expectation that my clients need to take a significant and active role in their own healing process. In order to lower the client's healthcare costs, FRIF — especially MFR/jfba — includes self-care as an integral part of the client's health education and recovery.
APPOINTMENTS: Please text me at 408-806-5478 to book your appointments in accordance with the Hours & Rates TAB.
Health Insurance: I can prepare SuperBills for you to give to your health insurer, based on valid prescriptions from qualified members of your integrative health care team — usually an MD or a DO. I do not deal directly with your health insurer, but rather I prepare for you a SuperBill that you send to your health insurer.
Please Note: Some medical and clinical therapy work will be performed only with the advice and consent of your physician — usually an MD or a DO. Some medical therapy (MMT) will require a written prescription, especially for your insurance documentation.
LOCATION: Spirit-Mind-Body Massage & Reiki offers its integrative MFR/jfba, medical, clinical, orthopedic, sports & therapeutic manual & energy therapy, and health education services at 2618 Hill Park Dr, San Jose, CA 95124. There is ample free parking.
Continuing Studies: Subsequent to graduating from NHI, I have taken — and continue to take — over 500 additional hours of hands-on training and skill-building through workshops, externships and certification programs, including such disciplines as: the John F Barnes Approach to MyoFascial Release (MFR/jfba), Zero Balancing (ZB), Reiki Master, Acupressure; Functional Re-Integration FrameworkTM (FRIFTM), Certified Medical Massage Practitioner (CMMP), Oncology Massage Preferred Provider (OMPP), The Radical Remission Project (TRRP), lymphatic drainage therapy (LDT), advanced neuromuscular therapy (ANMT), modern applied pain science and pain management, burn scar (CBSMT), dermo-neuro-modulation (DNM), myoskeletal alignment therapy (MAT), medi-cupping, therapeutic & comfort touch, Swedish massage, Shiatsu, slow medicine, positional release, myofascial therapy (MFT), active myofascial therapy (AMT), reflexology, advanced sports massage, active isolated stretching (AIS), Feldenkrais, somatic re-education, muscle energy & positional release techniques, muscle testing and orthopedic assessment.
My advanced integrative medical, clinical and advanced neuromuscular therapy (ANMT) training with both the National Holistic Institute (NHI), and several elite medical massage & manual therapy masters & pioneers, prepares me well to take a Holistic Bio-Psycho-Social*** view of each client, in order to understand more fully the client's lifetime of experiences, and how these experiences might be affecting both the client's overall health and wellness, and the appropriate mix of therapies in the healing program.
One important goal of my integrative manual & energy therapy services is to reduce your persistent stress by helping you move into a state of being characterized by a greater Relaxation Response* — i.e., moving away from a persistent chronic Fight, Flight or Freeze** state of being, dominated by the Sympathetic Nervous System, and often characterized by high persistent stress, poor sleep, and compromised immune & digestive systems; and moving toward a deeper Relaxation Response* (or Rest & Digest) state of being, dominated by the Para-Sympathetic Nervous System, with well-documented benefits for your immune & digestive systems, and your general health & wellness.
My Vision: To help realize my Vision of delivering truly integrative health and medicine into your community and your life, I work with AMTA, the American Massage Therapy Association, through its California Chapter (AMTA-CA), and with AIHM, the Academy of Integrative Health and Medicine, to seek ways to bring together at The Client-Patient Healthcare Roundtable, the complementary bio-psycho-social holistic integrative and eastern healing & wellness wisdoms, and the western allopathic & osteopathic bio-medical wisdoms, with the intention to help our clients-patients intelligently & actively manage and participate in their own health and wellness.
I also own and operate The Marguerite Elizabeth Giuliano 1000 Cranes Foundation, dedicated to answering the question of how to improve health care in your community and America.
My public advocacy voice soon will become present through the Holistic Integrative Health and Medicine Advocacy Network (www.HIHMAN.net), dedicated to delivering holistic integrative health and medicine into your community and your life.
I also own and operate Choose Once Again (www.ChooseOnceAgain.info), helping you discover your way home to Source. I believe in Spiritual Pathing to foster compassionate, connected, enlightened, awakened individuals and communities. The name is inspired by "Choose Once Again", the final section in ACIM, A Course In Miracles, 3rd Edn., section T.31.VIII, beginning on — can you believe it — page 666.
I also own and operate the Total Applied Pain Science Institute (www.TAPSI.org), enhancing our understanding of how to apply in totality, modern pain theory & science to persistent pain management, manual therapy and the client's health education.
I am certified in First Aid, CPR and AED.
Follow SMBmassage on Facebook.
Archangel — from whence aroseth such a name as this?
As I have developed my skills, understanding and clinical practice in the eastern and holistic healing modalities, I have come to believe strongly in the spiritual & emotional aspects of life and their influence on our health and wellness. Consequently, I use the phrase spirit-mind-body to acknowledge the origin and full connection to Source, rather than the more limiting phrase mind-body. While I do believe that it is not necessary to be highly spiritual to obtain benefit from spirit-mind-body healing, I also believe that having a vital spiritual life improves your receptiveness to the full potential of spirit-mind-body healing, and diminishes the possibility of having skeptical blocks. To highlight this spiritual connection, I have chosen several symbols from several spiritual wisdoms and paths.
The name derives from my use of the four principle Archangels recognized by the world's major religions: The Archangel Micha-el, The Archangel Rapha-el, The Archangel Gabri-el and The Archangel Euri-el.
The Archangel Micha-el, "One who is like God", is the leader of the archangels. His specialty is nurturing love, forgiveness, compassion, mercy, courage, optimism, strength, justice and loving kindness; while vanquishing fear, anxiety, hatred, weakness, evil, injustice and pessimism. Micha-el has the color blue, although not all artists agree on blue. One well-known angel reader asserts that Big Mike also does computer technical support!
The Archangel Rapha-el, "God heals", is the Divine Healer, and sports the color green. Rapha-el is also the patron protector of healers and voyagers. We are indeed on a great voyage toward meaningful healthcare reform for all.
The Archangel Gabri-el, "God reveals", is the Divine Messenger, and has been seen wearing yellow, gold, copper and orange colors. Gabriella — archangels have no gender — is the patron protector of educators, writers, speakers, entertainers, and the like.
The Archangel Euri-el, "The Light of God", is the Fountain of Divine Wisdom, and wears the color red.
All of these Archangels' characteristics and responsibilities are important to delivering truly compassionate holistic integrative health, wellness and medicine.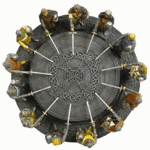 The Client-Patient Healthcare Roundtable: In order to deliver holistic integrative health and medicine into our communities and our lives, we will need love, compassion, courage and strength; we must be healers; we must educate and reach out to demonstrate and deliver the message; we must make wise choices regarding how to bring all the world's healing and wellness wisdoms together at The Client-Patient Healthcare Roundtable, all the better to help our clients actively and knowledgeably manage their own health and wellness.
The Roundtable is a metaphor for "unity" and "equality", as symbolized by the Knights of the Roundtable in King Arthur's Court, wherein all who sat together at the Roundtable did so in Unity as Equals, even in the presence of the King.
My vision is for the practitioners of all relevant healing and wellness wisdoms to sit together in "unity" as "equals" at The Client-Patient Healthcare Roundtable, with the client-patient as King, to plan and manage together, delivering the client-patient's health and wellness as one "unified" self-respecting high-performance integrative healthcare team.
My current focus is on the Greater San Francisco Bay Area, extending from Sacramento to Santa Cruz.
Thank you for visiting Spirit-Mind-Body Massage & Reiki. I hope to be able to serve you at SMBmassage some day soon, in San Jose, California. Until then, for you and your loved ones, let every day be a great day, and may you enjoy each one and each other to the fullest.
And always remember this:
No pain, no gain;
Know pain, know gain.
Now that's INSANE;
And it's NOT supported by science!
Here's how it really works:
No pain, know gain;
Know pain, no gain.
Now that IS SANE;
And it IS supported by science!
You can visit the SMBmassage website again at: http://www.SMBmassage.com/ ; or follow SMBmassage on Facebook.
Namaste, Dusty Rhodes, MS, CMT, CMMP, OMPP
MyoFascial Release & Massage Therapist, Reiki Master and Health Educator
email: RRhodes9@SMBmassage.com
CAMTC # 67448
NPI # 1477098572
—————————————————————
* The Relaxation Response, 1975, by Herbert Benson, MD, Harvard Medical School
** Wisdom of the Body, 1932, by Walter B Cannon, MD, Harvard Medical School
*** The BioPsychoSocial Model and the Education of Health Professionals, Annals of the New York Academy of Sciences, George L Engel, MD, Volume 310, Jun 1978, pages 169-181.